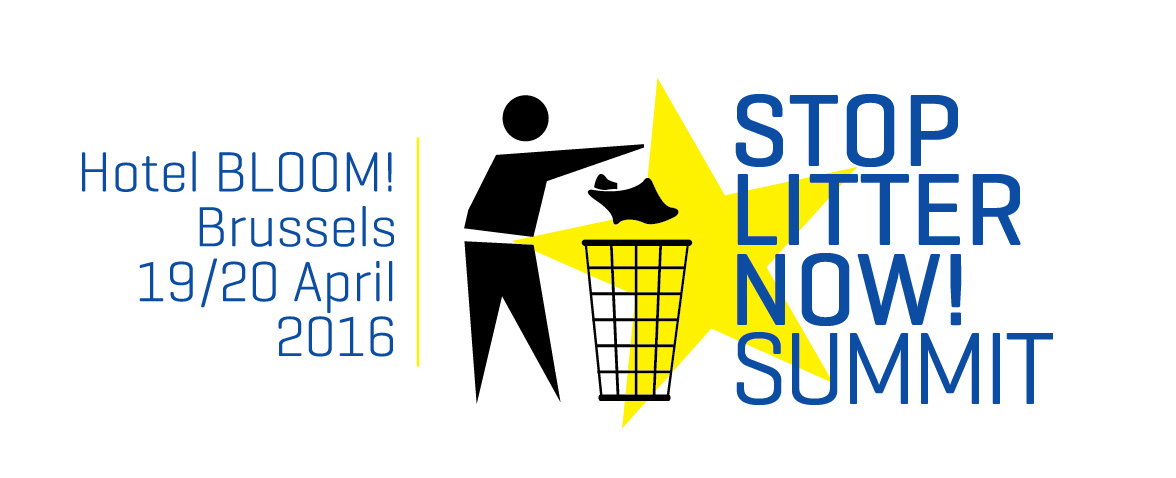 Stop Litter Now! Summit
Presentations and other materials related to the conference can be found at the bottom of this page.
SHARING RESPONSIBILITY FOR LITTER PREVENTION IN EUROPE
The Stop Litter Now! Summit 2016 couldn't be more timely! The European Commission's comprehensive proposals to establish shared responsibility for litter and prevention of littering are being examined by the European Parliament and the Council of Ministers.
The Commission wants national waste management plans to include national action to deal with sources of litter and all types of littering. Producers whose products often enter the litter stream will be obliged to communicate about prevention of littering. And all member states will be required to ensure that littering becomes an offence punishable by law. A target for reducing marine litter is proposed.
The Summit scopes out the challenge, profiles key work in the field and brings together stakeholders from across the EU to discuss solutions and debate shared responsibility. The event will conclude with a keynote speech from Commissioner Karmenu Vella and a panel debate on implementing shared responsibility.
19 APRIL
Session 1: THE CHALLENGE TO SHARE
14.00 - 15.45 hrs
This session set the scene, exploring the environmental, social and economic impacts of littering on our societies and how, by working together and sharing responsibility, we could address this challenge. Change will happen as local authorities get better at managing litter on the ground and producers engage effectively to promote civic pride and behavioural change. The session will include an overview of the legal situation across the EU and a rundown on what the EU Commission means by shared responsibility when it comes to litter and prevention of littering.
Session 2 : WORKING TOGETHER – ENGAGING PEOPLE, CHANGING BEHAVIOUR
16.15 - 18.00 hrs
Hear from leading specialists on engineering behavioural change by clever communications and innovative approaches. By giving subtle hints & signs, creating situations, using evocative words or images we can nudge people to do the right thing. In this session we will discover how it works, what it takes to engage citizens and will gain knowledge from practical examples. This is particularly relevant for producers and local authorities developing local litter prevention actions once the new EU waste proposals become law.
Reception
18.00 - 21.00 hrs
20 APRIL
Session 3: WORKING TOGETHER – TOOLS WE CAN SHARE
9.00 - 11.00 hrs
Even if we all know there is a litter problem, there is a lack of comparable information about the state of cleanliness across the EU. Knowing more would help pinpoint resources and do a smarter job of tackling littering. The Clean Europe Network will share news on the common European approach it is piloting. This session features an interactive element where participants will be asked to carry out litter assessments from their seats! In addition we will look at tools that can be used by stakeholders to promote litter prevention.
Session 4: LAND & SEA – INTERLINKED SOLUTIONS
11.20 - 12.40 hrs
There is growing global awareness of marine litter. Rightly so, for pollution from litter is an alarming problem in all of the World's marine environments. But what is it, how will it evolve and what can be done about it. As 80% of marine litter starts life on the land, we will also consider how the flow from land to oceans can be stopped and how local authorities can play a major part in that exercise.
Session 5: IMPLEMENTING SHARED RESPONSIBILITY – LEAD ROLE FOR PRODUCERS
14.00 - 16.15 hrs
Across Europe governments are considering programmes and approaches, old and new, to cut littering in Europe. Taxes on products, deposit return schemes, restrictions of various sorts. A presentation of some of these will precede our main keynote speech.
KEYNOTE SPEAKER: Commissioner for the Environment & Fisheries, Karmenu Vella
A PANEL DEBATE will close the Summit, focusing on how the Commission's proposals for sharing responsibility for litter and prevention of littering can be implemented in practice.
Closing remarks and end of Conference
16.30 hrs
CONTACT INFORMATION
Alheid von Bothmer
Email: summit2016@cleaneuropenetwork.eu
Tel: +32 2 286 94 93
The Stop Litter Now! Summit 2016 in pictures

(Click image or place your cursor over the picture to be able to scroll through the gallery)
Stop Litter Now! Summit 2014