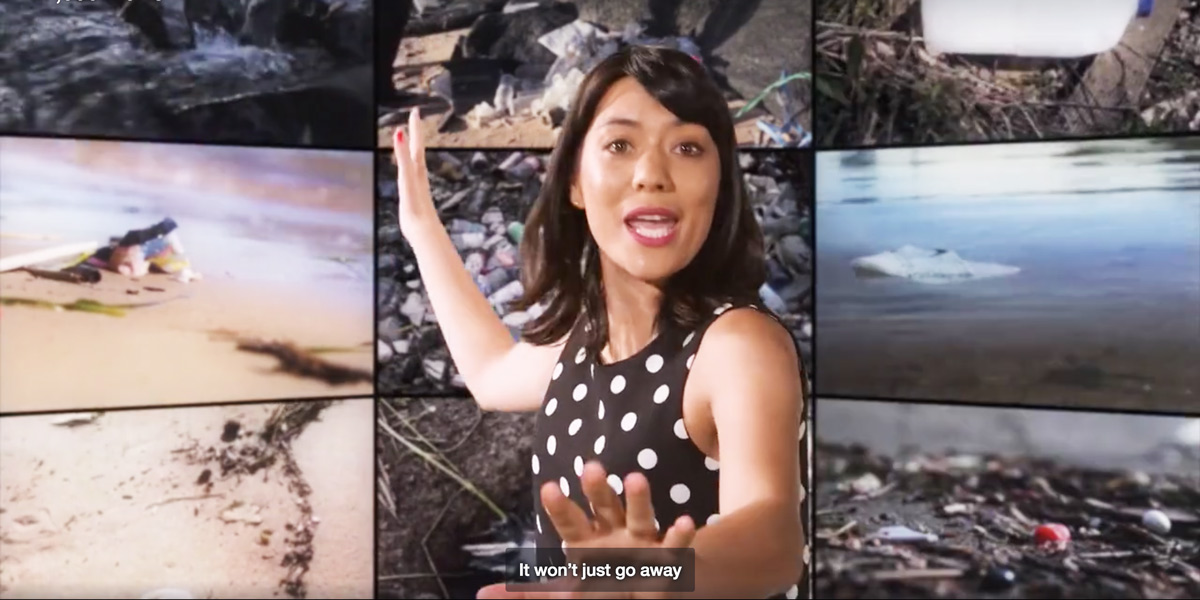 Every bit of litter really matters - Australian rappers take the stage
3 May 2017
At our current rate of littering, it will not be long before plastic bottles outnumber fish in our oceans. In order to stem the tide, Port Phillip EcoCentre, an Australian non-profit litter prevention organisation, has produced a video with a clear message to all would-be litterers: "Every bit of litter really matters! It's time to break this chain… We can all make a change". Be sure to view and share around this most creative litter prevention initiative:

Click here to watch the video
Act 1 - The clip starts with rapper MC Guttermouth boasting about how he and "his crew" are the best litterers in town. 16 lines of his rhymes are more than enough to show how inconsiderate the act of littering is - "We don't think about where it goes, we couldn't care less."
Act 2 - In comes the MOOP Patrol - MOOP, i.e., "Matter Out Of Place" - for the rebuttal. The two guards have their own rhymes to show how destructive litter is to the environment, and how easily litter can be avoided if we simply disposed of it properly - something that isn't so hard to do. Something there really isn't any excuse not to do.
Act 3 - Complete u-turn: Rapper MC Guttermouth is convinced of the urgent need to dispose of litter properly and decides to promote the litter prevention cause. "Now that we understand, we can do something about it… I'm gonna clean my act up, see what I mean. My team will be squeaky clean."
Each act is separated by a clear refrain that lets the message sink in:
Every bit of litter really matters
It won't just go away
Every bit of litter really matters
It builds up every day
Every bit of litter really matters
It's time to break this chain
Everybody really, really matters
We can all make a change
If you haven't done so already, we can only encourage you to watch and share the video around. We can only hope this clear and urgent message will positively influence the behaviour of would-be litterers across the world and help reinforce existing the strong social norms in favour of a litter-free world.
If you wish to obtain more information or a copy of the video, please do not hesitate to contact Port Phillip EcoCentre's Nikki Kowalczyk.
Full video transcript:
Rolling down the street with my crew just flinging it
Throwing rubbish on the ground, can't be bothered binning it
Ask me "Are you done?" I'll tell you, "I'm just beginning it"
If there was a competition of littering I'd be winning it
Flick my ciggy but on the ground
Empty my pockets, tip my litter out
Chip packets and burger wrappers
Drink lids, straws and all sorts plastic
I don't care about a little bit of rubbish
Flick it on the ground cause I'm lazy and I'm sluggish.
Unzip my jacket, let the wind blow it away
I don't even make it look like it's a mistake
A little bit of litter doesn't matter
Rains one day then it's gone the next
We don't think about where it goes, we couldn't care less
It's not worth our trouble, it's not worth our stress

Every bit of litter really matters
It won't just go away
Every bit of litter really matters
It builds up every day
Every bit of litter really matters
It's time to break this chain
Everybody really, really matters
We can all make a change

What's the matter here?
Matter out of place
Matter that matters for the entire human race
You kids don't see what you're leaving behind
Here's a little tale to open your eyes
It's a sad, sad story of a little fish
About litter that was aimed at the bin but missed
Swept down the drain and into the sea
A little gift to fish from the big city
We know that you know when it leaves your hands
It doesn't just stay right there where it lands
The very same trash dropped here on the streets
Is the last thing that the little fish greets
We could tell this sad story day after day
But you all know it needn't be this way
You can bin your bag and bin your bottle right
Let the little fish live to take another bite

Every bit of litter really matters
It won't just go away
Every bit of litter really matters
It builds up every day
Every bit of litter really matters
It's time to break this chain
Everybody really, really matters
We can all make a change

Ok I get the topic, I like the way you rock it
You telling me the problem, it's me that needs to stop it
It's washing down the gutter every time I drop it
My plastic is a weapon and the fish are gonna cop it
I never thought about it quite like that before
but now it seems like something that I can't ignore
I get the picture, it's clear now there no confusion
Billions of tons of plastic pollution
I'm coming with ya, me and my crew no need to doubt it
Now that we understand, we can do something about it
It's good we've all come together to find a solution
It's definitely about time for a resolution
You guys a cool, I like the way you rep about it
Now that I'm on your side it's time to get better at it
I'm gonna clean my act up, see what I mean
My team will be squeaky clean

Every bit of litter really matters
It won't just go away
Every bit of litter really matters
It builds up every day
Every bit of litter really matters
It's time to break this chain
Everybody really, really matters
We can all make a change