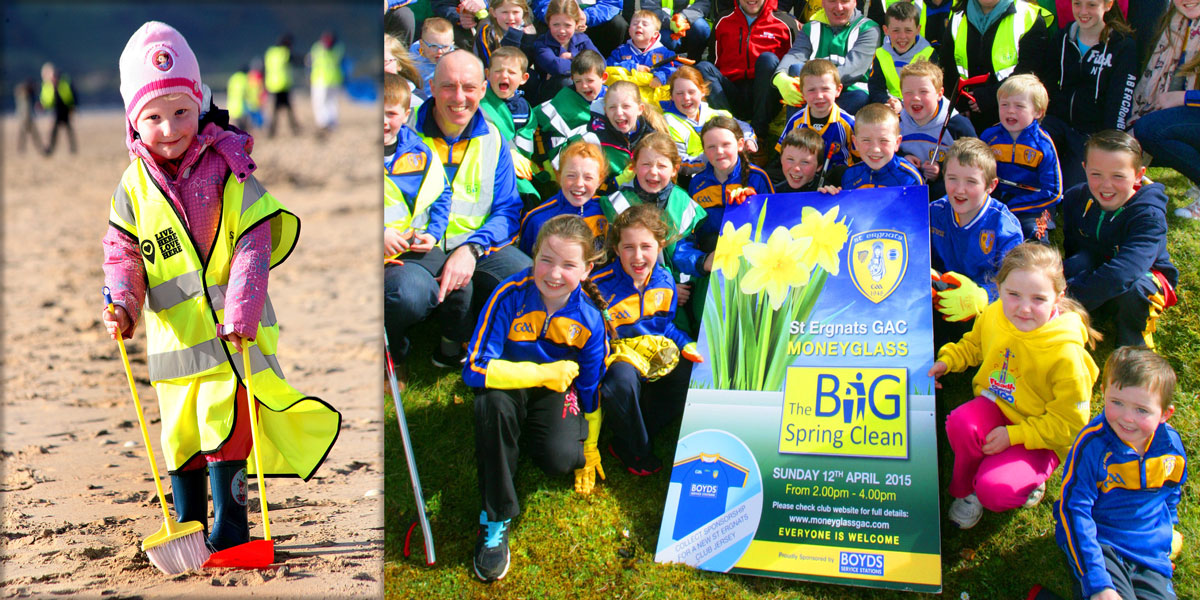 The Big Spring Clean comes back to Northern Ireland
8 March 2016
We all know that litter can blight our towns, villages, beaches, roadsides and countryside and make us feel a little less than proud of our beautiful surroundings. In April Keep Northern Ireland Beautiful will call for everybody to say, 'Live Here Love Here' and will be working in partnership with local councils, Department for the Environment and Tourism Northern Ireland to support clean ups throughout Northern Ireland for the BIG Spring Clean.
The BIG Spring Clean is Northern Ireland's fastest growing community clean-up volunteering campaign and is open to individuals, schools, community groups and businesses from all communities wishing to rid their streets of litter and discarded rubbish to show that they Live Here and they Love Here.
In 2015 it mobilised over 89,506 volunteers to get involved in clean up events across Northern Ireland. Together volunteers removed an amazing 107 tonnes of litter (that's equivalent to 6 double decker buses!) from the streets, coastal and rural areas of Northern Ireland.
The great thing about the BIG Spring Clean is that it provides many opportunities for volunteers including one-off events that need people to give as little as just a few minutes of time and allows everyone to get involved.
The Big Spring Clean now forms part of the wider Live Here Love Here campaign, which educates and empowers communities to take action and do the right thing to tackle litter and create a sense of community pride throughout the province. Everyone is asked to show their support for the campaign today.
The Big Spring Clean is a real success story, starting with under 2,500 people taking part in a week of action in 2010. Over the years it has grown to encompass the entire month of April!
Ian Humphreys, CEO of Keep Northern Ireland Beautiful says, "Last year virtually one in every 20 people in Northern Ireland took part in a clean-up during The BIG Spring Clean. Why such support? Because we all want a better place to live, and this is a great opportunity to do something positive about it."
Throughout March and April the BIG Spring Clean will take over the billboards, buses and even TV screens of Northern Ireland as Keep Northern Ireland Beautiful calls for people to volunteer – check it out here. You'll see it on social media too.
In order to help volunteers and groups with their events Keep Northern Ireland Beautiful sends them a FREE clean up kit when they register their clean ups online. To encourage groups to provide feedback as to how they get on, whenever groups submit results to the Keep Northern Ireland Beautiful website they will receive a certificate thanking them for their participation.
To learn more about BIG Spring Clean please visit the Keep Northern Ireland Beautiful website or visit Keep Northern Ireland Beautiful's social media sites to see regular updates of groups all over Northern Ireland having fun with their BIG Spring Clean.