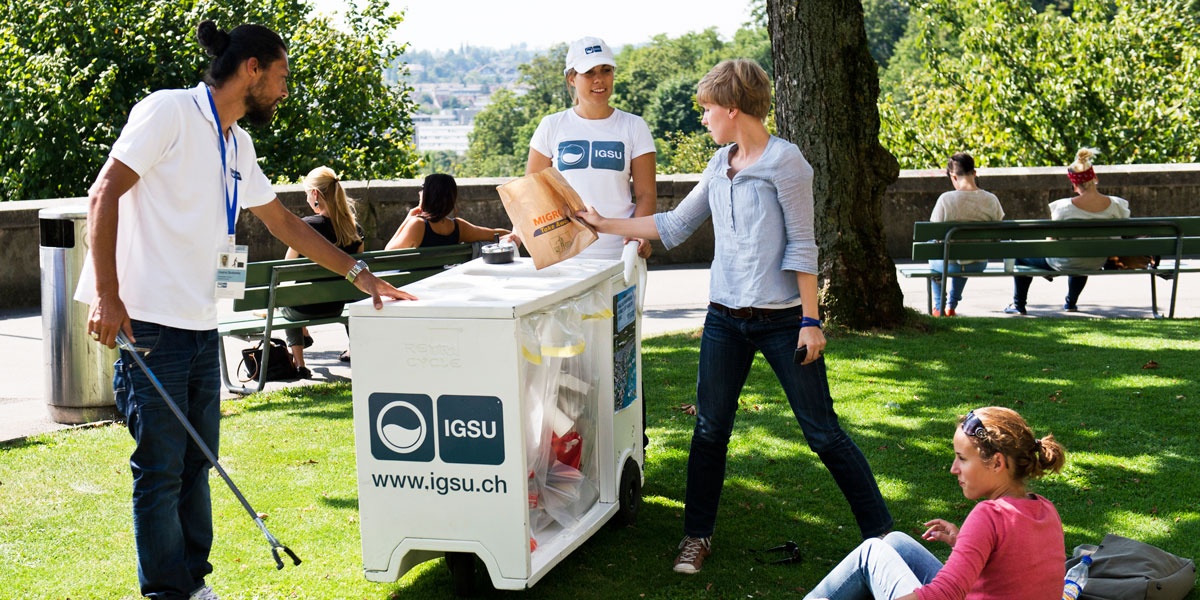 Swiss Ambassadors to the Rescue
23 February 2016
Since 2007 The Interest Group for a Clean Environment (IGSU) has been actively raising awareness of and preventing littering throughout Switzerland and advocating a clean environment. At the same time, IGSU supports cities, communities, schools and other groups affected by littering in planning and implementing their own activities to stop people from throwing away rubbish thoughtlessly or leaving it behind in public places.
IGSU's main litter prevention activity consists of sending out teams of IGSU ambassadors that raise public awareness through direct contact. Around 80 ambassadors are alerting pedestrians directly of the problem of littering through pleasant and amusing conversation. They provide information about the proper handling of waste and recyclable materials and motivate people to dispose of them correctly.
Every year, the IGSU ambassador teams are at the littering hotspots in over 40 Swiss cities and communities with their recycling mobiles. In addition, IGSU ambassadors raise awareness in schools. They visit more than 25 schools each year (ranging from pre-schoolers to upper teens) throughout Switzerland and conduct workshops and activities on the topic of littering.
The reaction of children and adolescents, teaching staff and caretakers is generally very positive. Teachers and janitors report a favourable change in the behaviour of children and adolescents. After a visit by IGSU, they notice a decrease in littering in and around the school. The students particularly appreciate the interactivity of IGSU's activities and the distraction from the school routine. They are also impressed with our young and motivated ambassadors.
The IGSU ambassador teams are able to spark their interest in this issue by addressing specific target groups and by age-appropriate, interactive activities. Peer-to-peer communication was found to be very effective.
We are convinced that we are generating a favourable and lasting effect with the IGSU activities, and that we will be able to permanently change people's behaviour with respect to proper waste disposal by continuously educating them.
For more information, please visit: http://www.igsu.ch/en/igsu-ambassadors/ambassadors-/