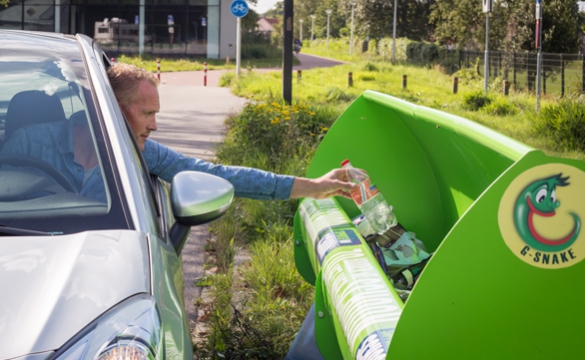 G-snake: a catchy litter solution
18 November 2015
The G-snake is an elongated bin that allows motorists to get rid of their rubbish before driving onto the thoroughfare.
Smart design
The elongated bin is especially designed to prevent litter in traffic. It consists of multiple units of 1, 5 M. The units can be interlocked so they form a 'gutter' alongside the road. This way motorists can get rid of rubbish while driving. The bin is exceptionally fit for placement in the proximity of drive-ins, gas stations, road entrances and exits. It is also wind- and weather resistant and easy to place and empty.
Arguably effective
NederlandSchoon conducted G-snake research pilots in 5 Dutch municipalities: Zoetermeer, Alblasserdam, Veenendaal, Enschede and Breda. The litter bins were all placed in the proximity of drive-in fast food restaurants and combined with one or more information signs. During the pilot the fast food restaurants were in charge of emptying the bin. Subsequently NederlandSchoon did three mensurations, one to define a baseline and two after placement of the bins. These were done on various places on the terrain and in the surrounding area of the restaurants, close to the G-snakes and on known hotspots.
Research shows that the G-snake is well used. Motorists find the G-snake user-friendly and take pleasure in depositing their litter in it. During the research pilots the bins were full on a daily basis. About three-quarters of the litter in the bins came from fast food restaurants close by. Four out of five municipalities where the G-snakes were placed are keeping the G-snakes and looking into expansion capabilities.
If you would like to know more about the G-snake pilots, feel free to contact Anne van Santen at NederlandSchoon. To order a G-snake, please visit www.g-snake.nl.