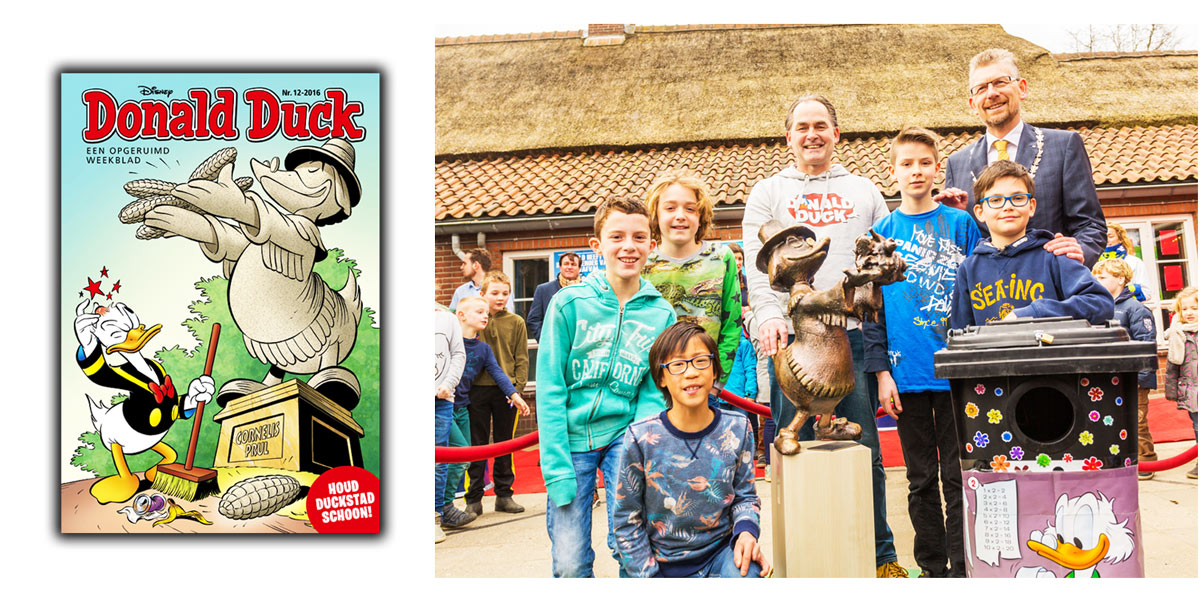 Donald Duck Weekly for a clean environment
23 March 2016
NederlandSchoon organized a special school contest with Sanoma Publishers, Donald Duck Weekly for this year's Countrywide Clean-up Day: the Cornelis Coot Contest. Schools were able to win cool Donald Duck prizes with the best idea for cleaning up the neighbourhood or school square. The main prize: a 3D-printed statue of Cornelis Coot, made of recycled plastics.
Schools were able to enter the contest via a special Donald Duck contest page. It was a great success, over 300 schools entered the contest. Every entry was rewarded with festive, double sided Donald Duck Clean-up Day posters with information about the degradation times of litter products printed on the back.
Prize-winners
Five boys of Public Elementary School Kastanjepoort won the statue with a solar powered Cornelis Coot bin. During the Clean-up Day for Schools on March 16th the Cornelis Coot statue was revealed on their school square in the village of Erichem.
"We made the bin together with Koen's grandpa. It runs on solar energy, so it is very durable. Music starts to play when you throw something in. It's a different tune every time, this keeps the bin exiting. We're hoping to see our idea in more places in our village," say the prize-winners. The editor in chief of Donald Duck Weekly was equally enthusiastic "We're impressed with the plans of these gentlemen. We would love to see more Cornelis Coot bins in the streets".
Manufacturing Cornelis
The 3 foot high Cornelis Coot figure, made by Van Gansewinkel, consists of over 130 recycled plastic bottles. It took 8 3D-printers 300 hours of printing to sculpt the statue.
Special Edition Donald Duck weekly
In the context of the Countrywide Clean-up Day Sanoma also published a special litter issue of Donald Duck Weekly. In the magazine Donald, a true Supporter van Schoon, and his nephews take on litter throughout Duckburg.
More information?
Would you like to know more about this collaboration between NederlandSchoon and Sanoma Publishers, please contact:
Vincent Breedveld| Communications Manager at NederlandSchoon
T: +31 70 304 2080
E: vbreedveld@nederlandschoon.nl
Or contact:
Thijs Burgerhof | Brand Marketeer
E: thijs.burgerhof@sanoma.com
T: +31 88 5565707